New State COVID-19 Dial Brings Good News to Castle Pines Businesses
The state updated its COVID-19 dial system to allow for easier movement between the levels. As a result, Douglas County will move to Level Yellow this weekend.
"Dial 2.0" will go into effect on Saturday at 9 a.m., along with two significant differences: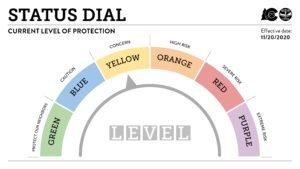 Counties will now evaluate metrics over a seven-day period, as opposed to fourteen days.
The data ranges for incidence rates and positivity rates have changed.
Using this new framework, Douglas County will officially be moving to Level Yellow on Saturday, February 6.
At Level Yellow, capacity levels will increase to 50% or 150 people. However, the COIVD Best Practices (i.e., 5 Star Program) Certified businesses will NOT be allowed to operate in the Blue Level until 70% of people age 70 and older have been vaccinated with at least one dose. Douglas County is working with Tri-County Health to determine what that number is currently so that we can track it. Read the state-issued press release to more about the changes.
The state of Colorado is currently working on a dashboard that would share more information about where vaccines have been distributed and administered. In the meantime, they provide statewide data online.
Apply for COVID Best Practices Variance Certification
Douglas County is offering Castle Pines businesses an opportunity to participate in the Best Practices Variance program. The program encourages businesses to implement safety measures beyond what is already required by public health orders and guidelines that will help slow the spread of COVID-19. In doing so, businesses will be able to accelerate reopening. Castle Pines business can apply now online!
Douglas County was among the first to submit the required application and letters of support to the Colorado Department of Public Health and Environment (CDPHE) seeking a variance allowing increased occupancy in local businesses – including restaurants. The state program, administered at the County level, is open to all eligible businesses in Douglas County.
City Awards nearly $350,000 to Local Businesses at a Critical Time
Mayor Radloff and the Castle Pines City Council issued grants to 21 businesses totaling over $345,000 to assist them in staying afloat during this critical holiday revenue period. Most businesses receive a significant portion of their annual revenue during this time.
"Our businesses responded early in the pandemic to allow customers a safe experience and have demonstrated incredible resiliency since March," said Mayor Radloff. "These grants are just a part of the success of our business's ability to survive. The Council and I are grateful for the community's loyal and continued support of our local businesses."
"Thank goodness for our local Castle Pines businesses! Without their tireless determination to remain open, serve their customers safely, and continued effort to employ their staffs, 2020 would have been much darker for our residents," said Castle Pines City Councilmember Roger Hudson. "While these small business grants won't make up for the financial hardships these businesses suffered in 2020, we hope that they will assist in a strong recovery in 2021."
The deadline for application was December 29, and notification of awards were sent out later that evening.
State Guidelines for Businesses
Colorado's COVID-19 dial framework aims to protect all businesses, essential and non-essential, from outbreaks and potential shutdowns. These guidelines and tools are meant to ensure that businesses can stay open to the greatest extent possible according to their county's dial level while also protecting customers and employees from COVID-19.