Castle Pines Shuttle and Mobility Study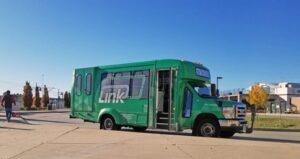 The City of Castle Pines is conducting a Colorado Department of Transportation grant-funded study to assess options to improve residents' mobility choices. The study will explore a variety of scenarios, including local transit, accessing regional transit connections, and improving walking and biking conditions. The study will look at highly traveled corridors in Castle Pines, existing and planned activity centers (such as shopping centers, recreation, and schools) where there may be a higher need for transit, as well as bike and pedestrian infrastructure improvements. It will also examine how electric or autonomous vehicles could be used for transit service and whether an in-town circulator (shuttle) could help to:
Decrease vehicle miles traveled
Improve air quality
Increase mobility choices for underserved populations
Improve resident access to the Regional Transportation District (RTD) system by offering connection services
At the end of this study, a set of recommendations based on study results and resident input will be developed. Recommendations will also include options to pursue additional funding (grants, funding from partners, etc.) for possible implementation.
Receive project updates