The Development Of A Potential Recreation Center
CHANGING FOR GOOD
It takes true intention to embrace evolution without losing what we value most. We have the governance, leadership and momentum to ensure that we leverage growth into community benefits for all of Castle Pines – whether new trails, recreation opportunities, road improvements, or otherwise – we are purposeful about making changes to build the community we want, a community where we can live, work and play.
THE EVOLUTION
When Castle Pines incorporated in 2008, it was half the size it is today. The new city organization focused mostly on providing basic services. Now, more than 10 years later, the city has doubled in size and city services are expanding to meet the demands of residents – that includes a desire for more recreational opportunities close to home.
To build a community where residents can live, work and play requires public investment, commercial development, and cooperation among community organizations to maximize funding and services. 
Recreation Center
While Castle Pines has ample opportunities to play outside, residents have long been asking for a local recreation center.  In 2017, the city created a Parks and Recreation Plan which articulated community priorities garnered through robust public outreach including statistically valid survey results, which asked residents their interest in a local recreation center. Highlights of the 2017 recreation center survey results concluded:
The biggest need in Castle Pines was a community recreation center.
A recreation center can provide most of the recreation activities lacking in Castle Pines.
Residents are amenable to an increase in their property taxes to pay for construction of the community recreation center and an increase in sales taxes to help cover the operating costs of the facility.
More than half of the respondents voiced an interest in an indoor lap swimming pool, an indoor leisure pool with slides and other amenities and an indoor wellness pool
A COMMUNITY VISION FOR A RECREATION CENTER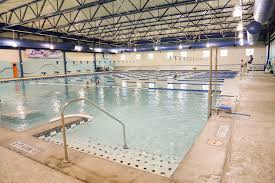 Since 2017, the city has been working to better define the community's vision of a recreation center and identifying the steps required to accomplish the desires of its residents- a local recreation center. To better understand how residents would use the facility, the city launched a recreation preference survey in June 2020 that asked residents what amenities they would like to see in a local recreation center.
The 2020 preference survey results identified specific recreation center amenities residents desire in a local recreation facility and what it would cost.
.
.
.
Top Amenities Preferred:
Weight and cardio equipment room
Indoor pool
Group fitness classes
Indoor walking / jogging track
Indoor gymnasium
Short-term child care
FUNDING A RECREATION CENTER
Guided by the June 2020 preference survey results, the cost of building a recreation  center is largely determined by the size and type of activities offered in the facility.
The preference survey results clarified the amenities residents would like offered at a local recreation center. The cost of the recreation center is largely determined by the size and types of activities provided at the facility. The results of the preference survey demonstrated the community desires a 50,755 square feet facility estimated at a total development cost of $30,835,645.
On June 14, 2020, the survey results and an estimated cost of the development were presented to City Council during a regular study session, where Council directed staff to develop language for a ballot survey and presented the language to Council at a Special Study Session July 22, 2020.
June 14, Survey Presentation (2 hours 45 minutes)
On August 11, the ballot survey results will be presented to City Council. These results will help Council determine if the City should move forward with an election asking if voters would fund the construction of a recreation center.
Should Council place this on an election ballot, Castle Pines' registered voters will ultimately make the decision. If the voters vote yes, their approval would allow the City to issue bonds to cover the cost to build and furnish the recreation center and the means to repay the bonds. In other words, voters would approve issuing bonds and a property tax of an estimated 8.28 mills to repay those bonds. To a homeowner, 8.28 mills equals $296 per year in additional property tax for a $500,000 home.
JOIN THE CONVERSATION
Between July 27 – August 10, 2020,  a consulting service specializing in polling will contact registered voters in Castle Pines to conduct a survey on three tax measures being considered for the November 2020 ballot, one of which addresses the funding for the recreation center. No decisions on these measures have been made. The survey is to understand the voters' opinion on each of these tax measures.
To participate and follow the conversation:
On August 6 and 24, the City is hosting an Open House: How We Live, Work and Play. Residents will have the opportunity to attend on two evenings and ask questions about the recreation center and other developments in the city.
Castle Pines is evolving! As we embrace this evolution, we want to leverage new opportunities to develop our community into a place where you can live, work and play. You are the key to the City's evolution.
We want to keep you in the loop and look forward to your feedback. Subscribe to our City Council Newsletter for the latest on the topic and to join the conversation.