December 10
6 PM: Virtual Movie Watching Party via Zoom - register online

In-person Meet and Greet Cancelled Due to COVID Regulations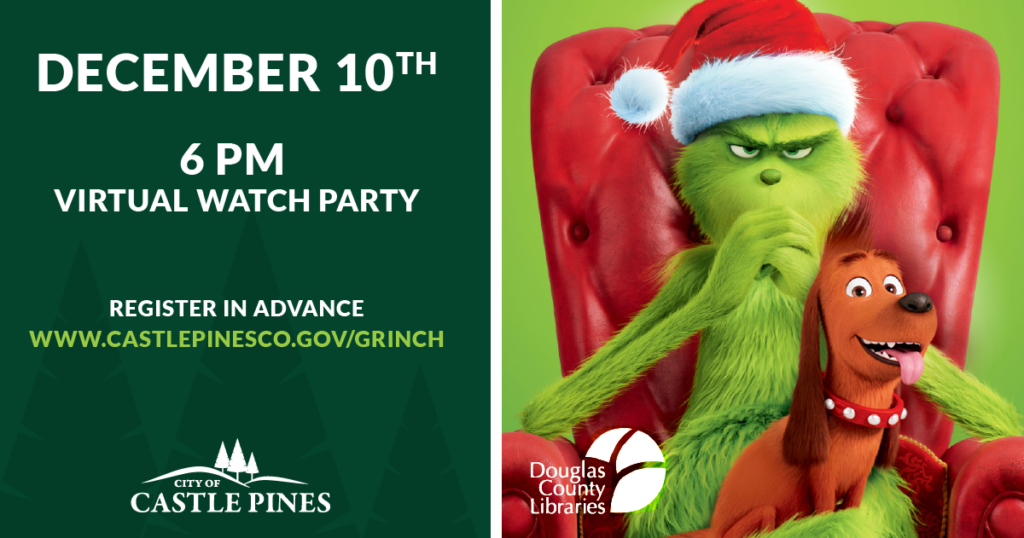 On December 10, we are excited to celebrate the holidays with a virtual showing of the movie How the Grinch Stole Christmas.
Pick Up a Free Craft at the Library
Starting Dec. 5, while supplies last, through Dec. 10, families can come to the Castle Pines Library to pick up a pre-packaged craft kit. The kit will include a bookmark, a free children's face mask with an image of the Grinch, a Grinch balloon, a color-your-own Grinch mug, and pre-packaged hot chocolate to take home with you. Complimentary supplies provided to the first 100 people. One kit per child.
Register Online to Watch the Movie
Once families have picked up their supplies, we hope you will join us from the comfort of your home to virtually watch the movie How the Grinch Stole Christmas from 6 PM to 7:30 PM via Zoom. Please register online to view the movie.
If you have questions, email us at communications@castlepinesco.gov.