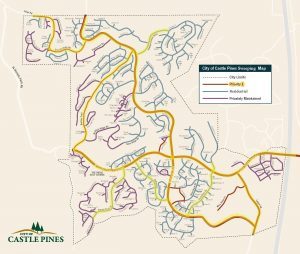 The City of Castle Pines will deploy crews Nov. 4 -  15, 2019 from 9 a.m. to 4 p.m. for its two-phase street sweeping operations: Priority 1 Roads and Residential Streets.
Priority 1 are the roads that provide critical connections to the City's main streets and phase II includes Residential Streets.
Weather permitting, the team will begin with Priority 1 on Nov. 4-6 from 9 a.m. to 4 p.m. and continue with residential streets on Nov. 7-15. The map on the right highlights the streets assigned to each phase.
The dates and times selected are periods when traffic volumes are light and conditions are safer.
To efficiently service your street and best remove sand and built-up debris, the City is asking that vehicles not be parked on the street. If a small area must be skipped due to on-street parking, the City will not be able to come back through for a re-sweep.
Tips for street sweeping days
Remove items and vehicles from the curb on sweeping days
Bicyclists: ride carefully and be aware of sweeping activity near bike lanes
Drivers: give street sweepers plenty of room and only pass when safe to do so