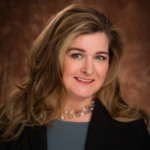 Deborah Mulvey
Council Member, District 1
Deborah settled her family in Colorado in 2015, embracing all that this great state and its people have to offer. Castle Pines' small-town life drew in this Jersey girl, and now she works every day to preserve its treasured nature, wildlife, and open spaces. Her work on City Council is focused on good governance and proper stewardship of resources and taxpayer dollars. Deborah believes that public service means working for neighbors and asking the tough questions necessary to make rational decisions for the best interest of the City.
Deborah has served Castle Pines since 2017, beginning with her HOA and Planning Commission, then being appointed and elected to serve the northern part of town as the District I Council Member. She embarked on public service with an open mind but quickly found ways to improve the lives of our young residents, by ensuring that vaping is outlawed, raising awareness for teen suicide prevention, and ensuring that substance and mental health services meaningfully impact all of our kids and families. Her persistent work with DCSD and its LRPC ensured that school overcrowding will be relieved with new facilities on land donated by developers. As it became apparent to her that the limitations of our low City taxes would prevent much-needed road repairs, she went to work for the City at DRCOG and the Subregional Transportation Forum, to bring Castle Pines its fair share of county, state, and federal funds, totaling over $4.5M to date.
Currently, Deborah's advocacy for Castle Pines' interests can be seen through her following positions:
Vice Chair, Douglas County Subregional Transportation Forum
Board Member and Finance Committee Member, Denver Regional Council of Government
Board Member, E470 Public Highway Authority
Finance Committee, Douglas County Housing Partnership
Director and Chair of Government Affairs/Communication Committee, Front Range Passenger Rail District
Board Member, Juvenile Assessment Center for the 18th Judicial District
Deborah enjoys her part-time work as an attorney representing families, small businesses, and nonprofits. In her spare time, she can be found tending her flowers, fruit, and vegetables including propagation of heirloom Schweiger Ranch apple trees, giving talks on native plants, and gardening for the table as a Douglas County Master Gardener, serving the community through the DAR as Colorado State Librarian and Hon. Chapter Regent, volunteering as a parliamentarian for nonprofits, and enjoying date nights and traveling with her husband of 30 years.
Term Expires: January 2024
Contact
Council Member
Deborah Mulvey, District 1