Monarch Boulevard Rehabilitation
Project Overview
As a part of the 2023 Road Solutions projects, rehabilitation efforts took place on Monarch Boulevard between Winter Berry Drive and the northern City limits. The project improvements included:
Concrete panel repair
Joint repair
Grinding and smoothing of roads
Restriping the existing roadway for bike lanes
Installation of flashing pedestrian signals at the intersection of Monarch Boulevard and Serena Avenue/Tapadero Way
Landscaping improvements between Winter Berry Drive and the northern city limits
In addition to the primary rehabilitation work, crews began utility relocations between Castle Pines Parkway and Winter Berry Drive. Beginning relocation efforts in 2023 will help expedite the schedule and minimize traffic impacts related to the reconstruction of Monarch Boulevard between Castle Pines Parkway and Glen Oaks Avenue in 2024.
If you have questions about the project, please email communications@castlepinesco.gov or call 303-705-0200.
Schedule
The project was completed in November 2023.
Design
The images below represent the updated road design for both the main roadway and intersections. Click on each image to enlarge.
Road Solutions Construction Phasing Map
The image below provides an overview of the City's Road Solutions efforts, including completed and future projects. For more information, click on the image below to enlarge.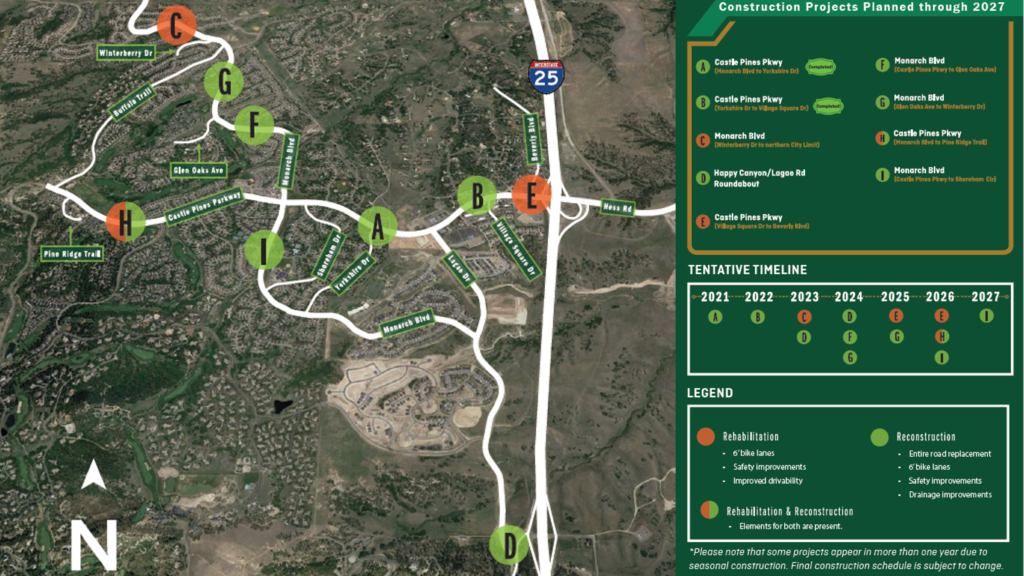 *Click the map to enlarge
---
Want to learn more about our long-term Road Solution?
City Council has created a Plan of Action for the Streets of Castle Pines. Visit our Road Solutions page and find out how the City plans to invest heavily in our infrastructure over the next several years.
---
Stay Informed on the Progress of this Project: