---
Road Solutions: A Plan of Action for all Streets
The City started full reconstruction on Castle Pines Parkway in June 2021 with Phase One between Monarch Boulevard and Yorkshire Drive . The City is now working on Phase Two between Yorkshire Drive and Village Square Drive. The Phase Two portion of the project is expected to be completed by November 2022 (weather and special circumstances permitting). Lane closures and traffic pattern shifts are anticipated while final projects steps are completed.
The project will reconstruct over a half‐mile segment of Castle Pines Parkway from Yorkshire Drive to Village Square Drive. Improvements include removing and replacing failing concrete pavement, adding bike lanes, upsizing drainage facilities, and expanding the Lagae Road intersection to provide additional turn lanes.
Next Steps and Future Planning
Since the voters said no in 2021 to an increase in taxes and borrowing to fund road repairs, the City has been actively pursuing alternative funding options to significantly accelerate construction without additional taxes on the citizens of Castle Pines. This solution involves partnerships that Council has built at all levels of government, from Douglas County and the Denver Regional Council of Governments (DRCOG) to CDOT to federal grants and programs. The funding secured through these partnerships will allow the City to complete five more major road projects as well as perform preventative maintenance in seven areas of Castle Pines through 2026.
---
By taking an aggressive approach, the city plans to achieve the following in the next four to five years:
Complete the work as quickly as possible to get city infrastructure back on track while preventing construction zone fatigue and frustration for citizens. As residents are experiencing, road construction takes time.
Be adaptable and flexible for seasonal construction and budgetary cycles.
Proactively communicate when and where improvements are occurring as funding becomes solidified for each effort.
Maximize the life of our entire roadway system by allocating funding for meaningful maintenance improvements along residential streets while these major arterials are being improved.
Resources
Keep checking back for new tools and resources that we will be adding to keep our citizens informed as we make progress on our Plan of Action.
Scroll through our Road Solutions Storymap below and learn more about the history of our roads and how we got to where we are today.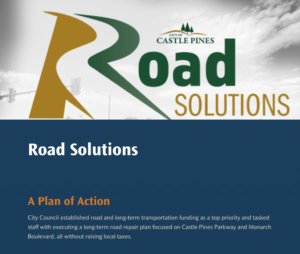 ---
The City will release more information about the plan over the coming weeks.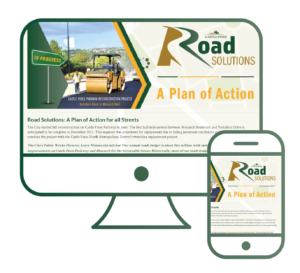 Stay up to date a
nd learn more by one of the following ways:
---
Checking this page often by bookmarking www.castlepinesco.gov/roadsolutions.