Happy Canyon and Lagae Intersection Roundabout
Project Overview
As a part of the 2023 Road Solutions projects, design and engineering activities will begin in 2023 for intersection improvements to the Lagae Road and Happy Canyon Road intersection. Project improvements will include:
A roundabout at the intersection of Lagae Road and Happy Canyon Road
Safety and traffic flow efficiency improvements
This work will be completed as a part of an early action item for the eventual improvements to the I-25 and Happy Canyon Road bridge and interchange. The roundabout will tie into the eventual final construction of the bridge/interchange project. Construction at the intersection is expected to be completed by summer 2024.
If you have questions about the project, please email communications@castlepinesco.gov or call 303-705-0200.
Schedule
A contract was awarded for design services in January 2023. The project is anticipated to be completed by summer 2024. The construction start date is still to be determined.
Project Visualization
Click on the image below to view a 3-D visualization of the project area, including the roundabout design. The visualization is for representative purposes only. The final product may have slight variations.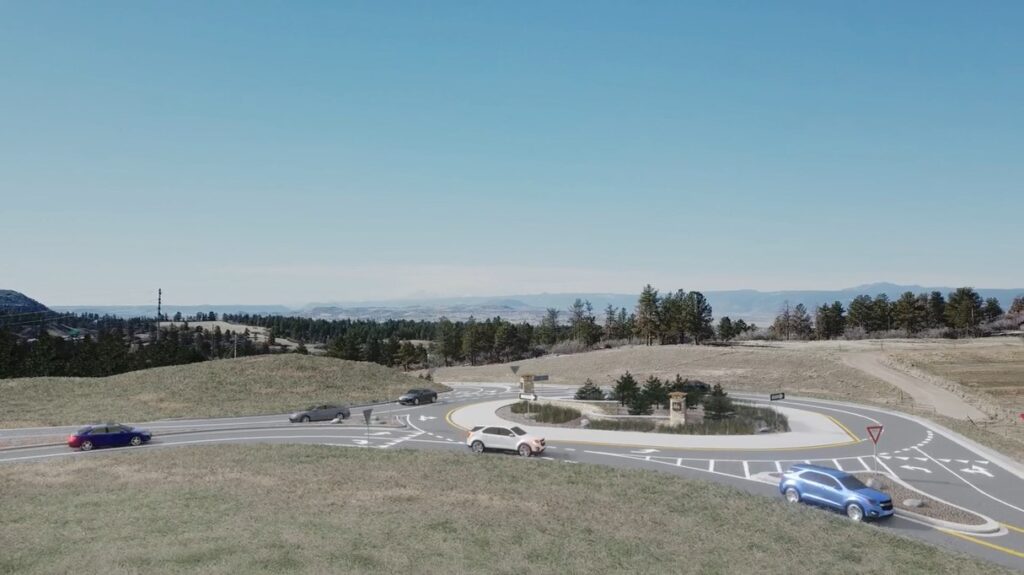 *click on the image above to view the visualization video of the project area
---
Want to learn more about our long-term Road Solution?
City Council has created a Plan of Action for the Streets of Castle Pines. Visit our Road Solutions page and find out how the City plans to invest heavily in our infrastructure over the next several years.
---
Stay Informed on the Progress of this Project: