In early 2023, City Council approved a contract to construct monuments at the city's major entrances. The Gateway Project will create welcoming entrances to the city for both residents and visitors at the city's major thoroughfares. View the City's Gateway and Wayfinding Plan for more information on the project.
The project is a part of the City Council's efforts to improve both navigation and a sense of place throughout the community.
Construction of the first two monument locations, located on the southbound off-ramp at I-25 and Castle Pines Parkway, as well as at Monarch Boulevard near the northern city limits, will begin later this year.
Schedule
The project started in late May 2023 with work focusing on the I-25 and Castle Pines Parkway monument.
Crews began work on the Monarch Boulevard monument in early July 2023.
The project is expected to be substantially complete by mid-November, with landscape work completed in spring 2024.
3-D Visualization of southbound I-25 and Castle Pines Parkway (click on the image to view the 3-D video)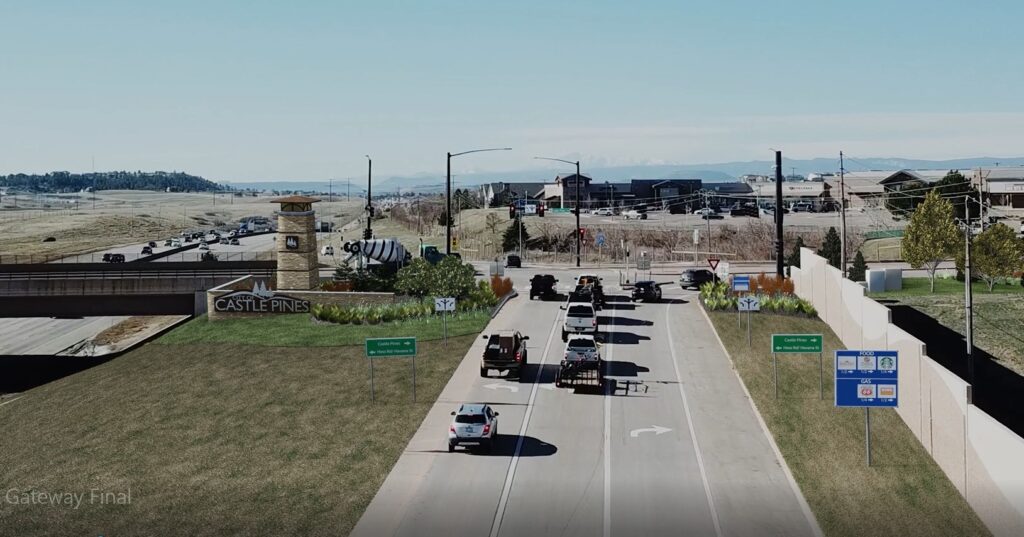 I-25 southbound off-ramp and Castle Pines Parkway monument illustrations (click on each image to enlarge)
The images below are conceptual in nature and are designed to be generally representative of the project. Final aesthetic details may vary.